Time tracking isn't just about logging hours and timesheets. Timesheet is helpful in recording the time an employee has spent at work, or in a particular job, this information could be recorded on paper, a spreadsheet, or in a cloud software system. By keeping track of the time an employee starts and finishes work, as well as any breaks they have taken, a timesheet can be used to calculate the employee's pay for the day, week, or month.
Timesheets aren't just used to calculate the payroll of an employee, Project or client-based timesheets are more detailed records showing the amount of time spent on each project or client, which means they can be used for billing purposes and to help with project management. These types of timesheets are also useful for HR Professionals to analyze the activities being carried out and the amount of time taken which could help with workforce planning.
Like IT Technology is a very wide field, In IT Technology refers to everything that businesses use computers for. Information technology is building communications networks for a company, safeguarding data and information, creating and administering databases, helping employees troubleshoot problems with their computers or mobile devices, or doing a range of other work to ensure the efficiency and security of business information systems. As it is a growing industry a lot of deadlines, budgets, and achieve success when it uses time effectively. To do this, you need to be able to keep accurate records. This makes timesheets essential to any successful business.
Are you still stuck in Tracking Manually?
There are still many companies that are tracking manually, the work of an employee. While calculating The fact of the matter is that using a manual time tracking methods may be costing your enterprise more than you know. For most companies with employees, it's important to track employee working hours accurately. using paper timesheets can lead to a host of mistakes and errors, one of the most common problems with handwritten timesheets is illegible handwriting. When you have no control over your employees' timesheets, there's always the risk of less-than-honest employees taking advantage of the system. Another common problem with using outdated timesheets is calculation errors. Even simple mistakes like reversing numbers or adding wrong can lead to incorrect paychecks.
Solution: When it comes to timesheet management, Purely Tracking is the Easiest Way to Generate Employee Timesheet & Payroll. It makes it simple and easy for employees to enter hours worked and supporting timesheet information. Timesheet Management Software offers direct access to the online timesheets to employees, managers, and the administrator via mobile or desktop app.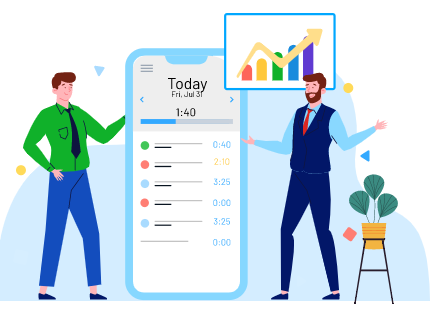 1: Increase Efficiency & Ease Administrative:
It is very much helpful in IT Technology, By integrating timesheet software you can automate many of your payroll and human resources tasks, such as time off and leave requests, timesheet validations, and approvals. You can also send out automatic timesheet reminders and can collect and approve timesheets digitally. By automating payroll and accounting tasks that might otherwise take up valuable time, you can increase efficiency and free up your payroll staff to work on more important projects.
2: Unify Data Entry, Processing & Storage:
Timesheet software system helps in data entry options such as any employee can log in through Desktop or Mobile interfaces, time clocks, and/or IVR phone time cards. This eliminates the need for your payroll staff to spend valuable time entering data from paper timesheets, as your employees can enter time worked directly into the timesheet system. With the right system, you can even automate things like entry approvals, leave requests, and leave accruals using pre-set accrual rules. Most timesheet software systems offer simple ways to digitally store and organize your employee and human resources records for easy access.
3: Manage Projects:
Timesheet software system helps IT Technology in Managing their Project Task. IT Collaborate on projects & tasks with your team and clients. Enjoy powerful collaboration with email-enabled discussions, notifications, and activity feed.
Instantly toggle between Kanban, Gantt & List views of tasks
Visualize, filter & group tasks both within & across projects.
Flexible project budgeting & billing methods.

4: Easily Calculate Payroll:
Maintain daily, weekly, or monthly timesheet workflows with easy weekly submissions.
Track working hours by customizable workflow for approvals.
Quick and easy time entry allows your employees to update the effort spent on projects and other tasks accurately and efficiently.
5: Bill Accurately:
Timesheets help you in billing accurately. They are a way of letting your clients know that you handle their projects efficiently and their money is not going to waste. With timesheets, your clients don't need to worry about constantly checking the status of their projects. They let them see how much time you dedicate to them and serve as proof of how accurate your billing is.
6: Reduce Time Wastage
The timesheet will help you to understand where is your employee are putting more effort. It helps in taking the decision, that how you can optimize your task. Timesheet software allows you to take advantage of real-time project, workforce, and asset management. Analyze employee performance by tracking attendance, hours worked, and both unscheduled and scheduled absences all in one system. Set and monitor schedules and plan ahead for future projects based on personnel and asset data from current and past projects.
Conclusion: 
PurelyTracking is Timesheet Management Software that can evaluate employee accountability, It helps in evaluating how long it takes to complete tasks and monitor projects to maximize efficiency and productivity. It is a complete workforce management software solution for companies.