A well-designed and well-implemented digital visitor management system can provide numerous advantages to your company. A visitor management system is a solution that allows organizations to streamline and automate their visitor management process, using technology to monitor, track, and record visitor information.
Visitor Management is important to deliver the best visitor experience, enhance workplace safety and efficiency. Appropriate visitor management can prevent you from breaking and lead you to a better chance of winning a sale.
Importance and need of visitor management system!
The goal of using a visitor management system is to provide not only a great first impression to visitors and employees but also to provide the right tools for the Facilities Manager and your reception staff to manage visitors without putting in the extra effort.
Technology, security, communication, and analytics are all combined in the visitor management system. Without significantly altering your workflow or adding more processes and headaches to your daily work tasks. The key is a simple visitor management system that is flexible, customizable, and integrates with your existing software.
Benefits of using the visitor management system at the workplace!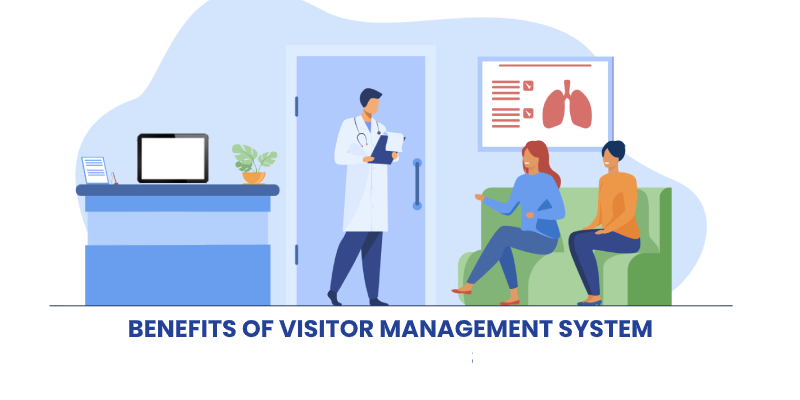 Accuracy: There is a high degree of precision associated with visitor management software. Be it through ID scanning or a person typing into predefined fields of data, the overall system is easier to manage and more accurate than a manual visitor logbook.
Face Recognition: Visitors can add their facial recognition details when their photo is captured for the first time, to make check-out and subsequent check-ins faster and more secure.
Manage your office's incoming deliveries

Quickly scan your packageUsing vLobby Delivery app, Scan your package and gather package details.
Let vLOBBY do your workvLobby Delivery app will automatically detect and notify the owner using text or email to let them know to pick up their package.
Make pick-up Hassle-FreevLOBBY deliveries make it easy for an owner to find and sign the package.

Touchless check-ins: The visitor management system uses touchless procedures to automate your visitor check-in process. This is a component of workplace safety that clearly communicates your commitment to safety. With temperature screening and QR code scanning, the visitor management system allows for touchless visitor check-in.
Ensures legal compliance: NDAs signing is required for visitors to get access to your office facility. Get digital signatures and avoid frustrating guests with complex workflows. Keep critical business data secure.
Reduces cost overheads: Such visitor management software comes with powerful features and robust technology that helps automate the check-in process. The visitor management system can easily scale with your growth and also continue to provide incredible value in the long run. Visitor makes these systems more feasible and affordable alternatives to paper-based visitor management.
Compliance: The manual process of collecting, managing, and erasing data necessitates techniques and experience, which may result in a single point of failure. Adopting a simple visitor management system is a better option for managing visitor data legally and easily staying compliant.
Conclusion
Replacing the paper-based visitor registration process with a digital visitor management system can do wonders for your office facility and make the lives of your office administration and security staff much simpler and more importantly offer a better guest registration experience for your guests. Purely Tracking enhances office security, ensures legal compliance, makes visitor registration and management process seamless and so much more.